Astana-the capital of Kazakhstan
The city of Astana, with a population of 375,000, has been the capital since 1997.


In 1998 with the transfer of the capital from Almaty to Akmola, the city got a new symbolic name - Astana.
This decision was prompted by economic, ecological and geographical expediency. Overall condition of the city, its territory, its being in fact the geographic centre of Kazakhstan, well-developed transport system, balanced natural environment and other factors came to be decisive in making the choice. Shifting the capital to Astana will kick start the economic uplift to the northern, central and eastern regions of the country. In other words, the more balanced economic development of the country will be achieved.
Today's, reality is stunning. Astana is all in scaffolds. Construction goes on all round the city. Magnificent buildings of the House of Parliament and the Government building, a great number of new institutions and restored buildings attract the attention of the Astana citizens and the tourists.
Astana is becoming the international, business and cultural centre of not only Kazakhstan, but of the Eurasian continent as a whole.
Almaty
The city of Almaty, where over a million people live, is the country's financial, cultural and educational centre.
In 1995 in connection with the transfer of the capital to Akmola, Almaty got the particular status of political, financial, economic, scientific and cultural centre of the state.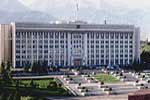 Almaty is the seat of the National Academy of Sciences, universities, higher educational establishments, hundreds of secondary schools. New state and commercial structures have been established lately. More than 50 countries have their diplomatfc representatives here.
The most important places of interest are the sport complex "Medeo", alpine skiing centre "Chimbulak", the sanitary bath-house "Almarasan", various museums and theatres.
Thanks to its unique position in the necklace of blue emerald peaks of Trans-lli Alatau covered with snow, Almaty is a real pearl of Kazakhstan.
It is one of the centres of the international tourism and one of the attractive cities in the Euro-Asian continent.




You will find additional information in corresponding city section you intend to visit


More information: